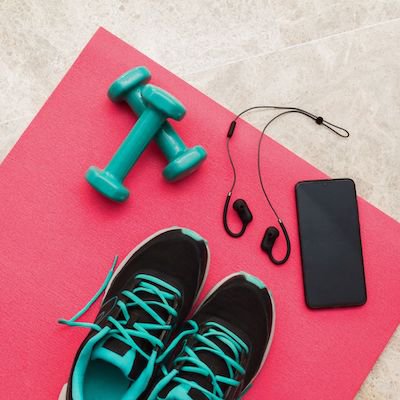 Happy New Year! The start of a new year allows people to have renewed energy and focus on how to lead healthier lifestyles, whether that means eating healthier or exercising regularly. But just because you have a goal, it doesn't mean it's easy! Exercising is beneficial for your body, no matter what your age, so if you're looking to move your body more this year, here are tips to get started so you can successfully make it a new habit!
Get a health assessment
The first thing you should do is to make sure you are prepared and in the best condition to start a new exercise routine. If you are experiencing pain, or have an underlying health issue, it's important to discuss with your health care professionals to ensure you are doing it in a safe way.
Set realistic goals
Knowing your "why" is important when you set goals for yourself. Are you wanting to feel stronger? Have more energy? Lose some weight or train for a marathon? No matter what your goal is, reminding yourself of the reasons behind wanting to exercise is a great way to keep your motivation up. It's also important to consider what your view of "exercise" is. Walking is exercise, so is climbing stairs or dancing. You also don't have to be sweating and panting for it to "count." Be broad in your definition and you will see that it will help you stay motivated!
Have a buddy
Sharing this exercise journey is a great way to not only have fun, but to keep yourself accountable. Join a class, invite a friend, or look for free groups that gather weekly. Having an established routine during your week that is fun and social can help you can reach your goals.
Schedule it in
Waiting until you "have time" is never going to lead to success. In the same way you make time to eat, work, or spend time with friends, it's important to dedicate time to exercise. Remember, it doesn't have to be a big chunk of time. Dividing it up into small 10 minute sessions is still effective in giving you the benefits of exercise.
Start slow
The biggest mistake we see is people who start off too hard too fast. This aggressive method can lead to injuries and burn out, so go slow and steady when you first start. Take your time in stretching, warming up, and start off with a simple walk around the neighborhood. Gradually build up the intensity if you feel ready.
Get support!
There are so many ways you can move your body, so take your time in finding what jives with you! Invite your friends or family to make it fun, and remember, you are doing this to feel better. If you need support in managing your foot health, or you sustain a foot or ankle injury during exercise, come see our podiatrists at San Antonio Podiatry Associates, PLLC for an appointment. Our team of compassionate foot doctors have the expertise and treatments to help you put your best foot forward so you can achieve your 2023 fitness goals. Get started by contacting any of our 6 locations in the San Antonio area for an appointment!