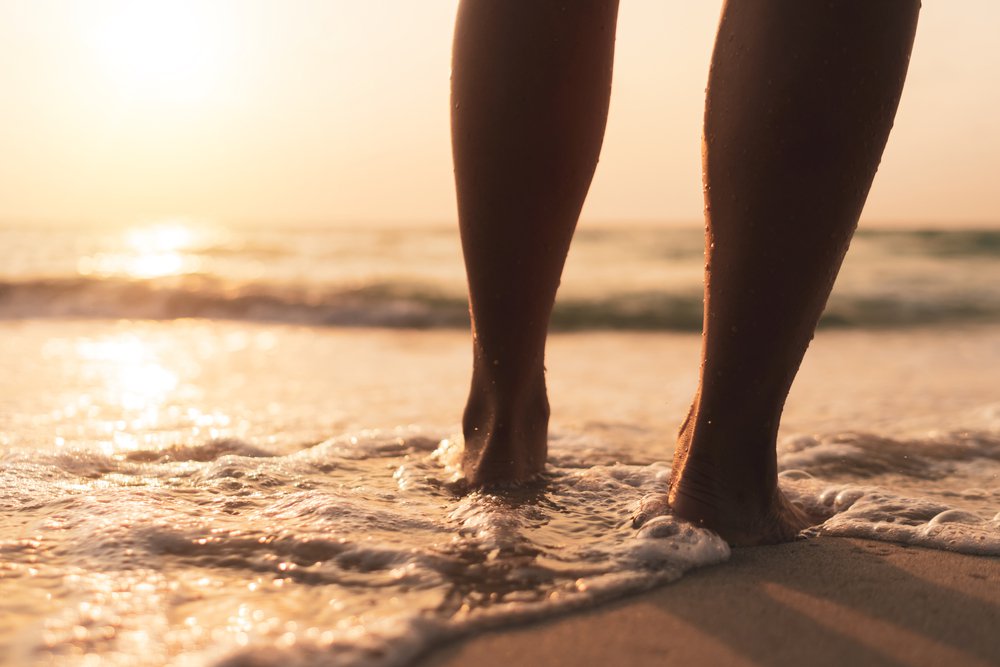 Do Not Go Barefoot
A long walk on the beach is both a relaxing way to spend a summer day and a great way to include exercise into your vacation itinerary. The softer surfaces of the beach forces you to use more energy and physical effort, causing you to burn more calories and strengthen your lower-extremity muscles. But before you go on your walk, remember to wear proper footwear. Why? 
When you walk barefoot on soft surfaces, such as sand, for long distances, you are extending your range of motion further than normal. This can lead to muscle pain, arch pain, heel sprains,  and can even cause plantar fasciitis. Wearing shoes at the beach can also prevent the soles of your feet from getting burned by hot sand. 
Do not let foot pain ruin your day at the beach. Stay away from flimsy sandals or flip-flops on your walk and aim for more supportive shoes. If you have flat feet, consider custom-made orthotics for additional foot support and pain relief.  
Remember To Apply Sunscreen To Your Feet
While we typically remember to put sunscreen on our face, arms, and legs, we often forget to apply sunscreen to our feet. Studies have shown that the worst protected areas of the body in regards to sunscreen coverage are our feet and ears. But did you know your feet are just as susceptible to melanoma and forms other skin cancer as the rest of your body? 
When you wear skin-baring shoes such as flip-flops and sandals, the tops of your feet are directly exposed to the sun's harmful ultraviolet rays. Without adequate sunscreen coverage, your feet are especially vulnerable to serious and sometimes fatal skin cancers. Luckily, you can reduce your risk of skin cancer by remembering to apply sunscreen to both the tops and bottoms of your feet.  
Apply Moisturizer After a Trip To The Beach
A long day at the beach can result in significant dryness to the skin on your feet. Sunburns, salty ocean water, and sand can all lead to peeling skin. While the formation of dead skin on the bottom of your feet is typically a result of your body's natural way of exfoliating, dry or cracked skin left untreated can lead to painful infection. If you are looking to keep your feet healthy after a day at the beach, here are some options:
Use gentle exfoliating foot scrubs
Soak your feet in epsom salt dissolved in hot water
Apply therapeutic oils 
Apply thick moisturizers multiple times a day
Protect Your Feet If You Have Open Wounds
Searching for shells on the beach is a commonly enjoyed summer activity. But the same shells you collect in your beach bucket can cause puncture wounds to unprotected feet. One of the most important foot safety tips for enjoying a day at the beach is to protect your feet from seashells, broken glass, and other sharp debris. Avoiding cuts and scrapes on your feet is important, as exposure to sand and ocean water can lead to infections. If you do have an open wound on your foot, try to stay out of the water to prevent infection.
If you are living with diabetes, protecting your feet is extremely important. Diabetes can cause poor circulation and numbness to your feet. People living with diabetes may not feel a cut or puncture wound immediately, and have a higher risk of infection or ulcers. 
Has foot pain led you to search for a 'foot and ankle specialist near me'? At San Antonio Podiatry, our podiatrists are here to help you step into this summer with healthy feet. With 145 years of combined experience, our care team is committed to providing you with various services, including custom orthotics and treatment for plantar fasciitis and sports injuries. To start your journey toward pain relief, visit one of our specialists today or call 210-361-1804 for more information.