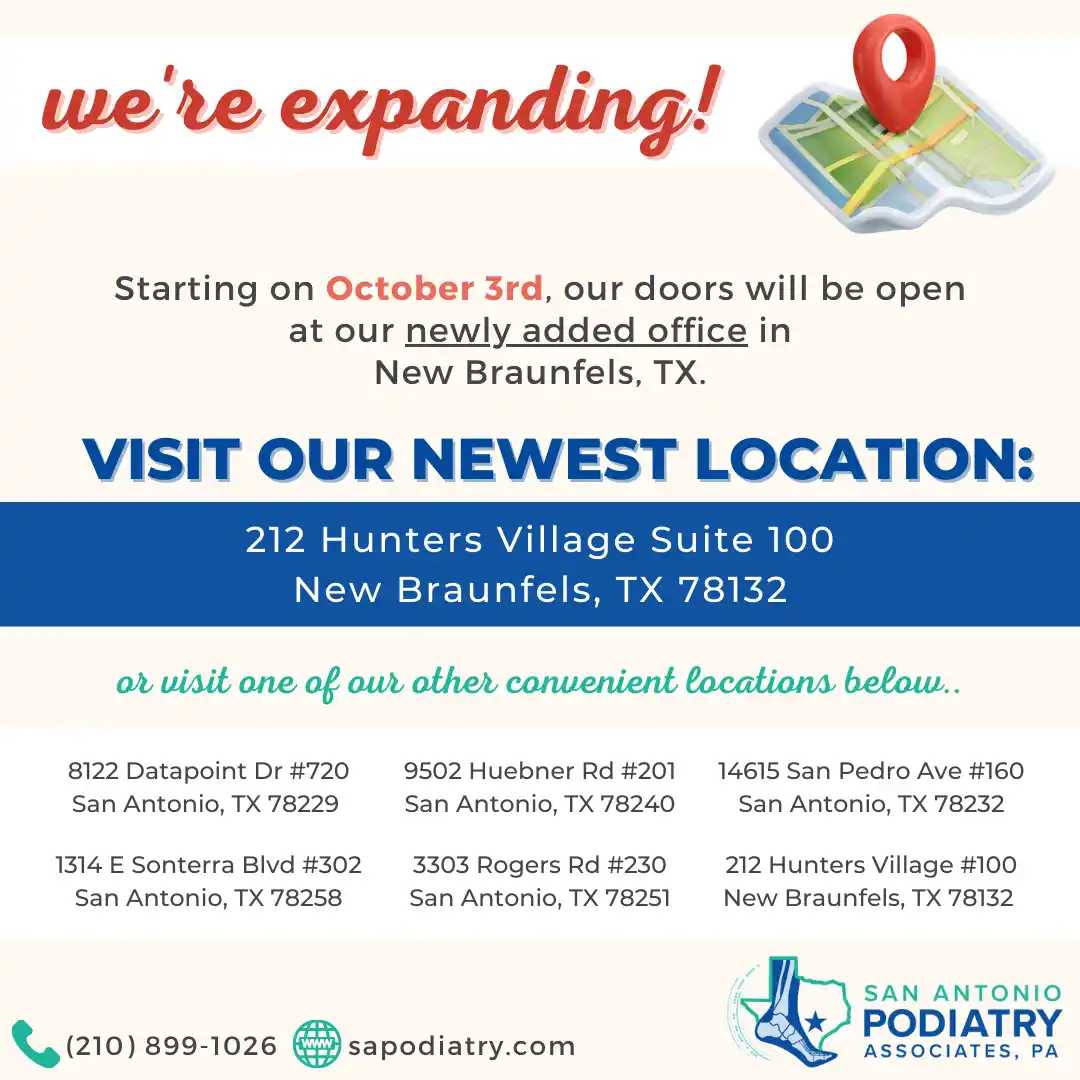 The sunny weather in San Antonio, Texas allows its residents plenty of opportunities to get outside and be active. Whether you prefer an eventful night out in heeled sandals or going on your daily morning run, you are likely to be on your feet quite often. However, this accessibility increases the potential for foot and ankle injuries or conditions. Luckily, San Antonio Podiatry Associates is excited to announce its new location in New Braunfels, Texas.
This location will allow us to serve even more patients in the San Antonio area. The New Braunfels office will offer the same high-quality podiatry care that has made San Antonio Podiatry Associates one of Texas's most trusted podiatry practices. Since our doors opened on October third, we've decided to introduce you to our new providers in New Braunfels, Texas.
San Antonio Podiatry Associates Comes To New Braunfels
At San Antonio Podiatry Associates, we provide the most comprehensive foot and ankle care in San Antonio, Tx. We serve six convenient locations in the San Antonio community, each equipped with the latest technology to provide cutting-edge care. At our New Braunfels location, as well as our other locations, you can receive services ranging from lifestyle recommendations and custom orthotics to treatment options like extracorporeal shockwave therapy, minimally invasive procedures, and reconstruction surgery. Some of the conditions we treat at San Antonio Podiatry Associates include:
Plantar Fasciitis - Plantar fasciitis is one of the most common heel injuries we treat. It is a condition that causes pain in the bottom of the foot and is often caused by overuse or tightness in the plantar fascia, a ligament that runs along the bottom of the foot. The condition is often accompanied by sharp heel pain or foot pain that comes and goes. The specialists at San Antonio Podiatry Associates can provide effective pain relief with treatment options like custom orthotics or extracorporeal shockwave therapy.
Toenail Fungus - Toenail fungus occurs when a fungus begins to overgrow under the nail. If your shoes and socks are often sweaty and moist, you may be at a higher risk of developing a fungal infection as fungi thrive in warm, damp environments. Given that fungal nail infections can be stubborn and difficult to clear up, it's best to consult a podiatrist when you spot symptoms. Your San Antonio podiatrist will most likely recommend prescription antifungal medications such as Lamisil or Sporanox. We may also recommend medicated nail cream or polish to help eliminate the infection.
Sports Injuries - When participating in sports and other physical activities, your feet are often the first to absorb impact, making them vulnerable to injury. Some of the most common sports-related foot injuries we treat at San Antonio Podiatry Associates include plantar fasciitis, ankle sprains, stress fractures, heel spurs, neuroma, and Achilles tendonitis. Each of our podiatrists is committed to a non-invasive approach, meaning they will always begin with more conservative treatments, like a cast or brace, to promote healing. However, if surgery is required to find pain relief and regain full range of motion, your San Antonio Podiatrist will put your needs and wishes first. They will discuss all of your treatment options with you and discuss the plan that works best for you.
Bunions - A bunion is a common ailment in the feet in which a few of the bones in the front of your foot are moved out of place. When this occurs, a bony bump will form on the joint at the base of your big toe. This bump can become extremely painful and prohibit you from wearing shoes or even walking properly. Bunion treatment depends on the severity of the bunion's pain or restriction from daily tasks. If lifestyle changes or custom orthotics don't provide relief, bunions can be removed surgically in a procedure known as a bunionectomy.
Ingrown Toenails - An ingrown toenail is a condition in which the corner or side of your nail grows into the skin and flesh beside it, resulting in redness and pain. If you are concerned about complications from your ingrown toenail, unsure whether you have an ingrown toenail, or home remedies are failing to relieve your symptoms, the podiatrists at San Antonio Podiatry Associates are happy to assess your condition. Your podiatrist may lift and splint your nail to help it grow over the skin. In severe cases (indicated by the presence of pus, exceptional redness, and severe pain), your podiatrist may partially or fully remove the nail.

No matter what foot and ankle problems you are experiencing, you can count on San Antonio Podiatry Associates to help relieve your symptoms. All of our San Antonio podiatrists, foot doctors, and foot surgeons will use a 'patient-first' approach, prioritizing your preferences and feedback to find the treatment that best fits your needs. If you are looking for an excellent doctor in New Braunfels, visit our office at 212 Hunters Village, Suite 100, New Braunfels, TX 78132 or contact us by phone at (210) 899-1026.
Meet Your New Braunfels Providers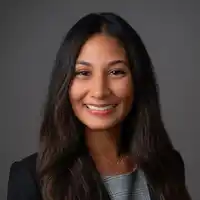 At our New Braunfels location, you can receive quality care from either of our podiatric medicine providers. When you pay us a visit during regular office hours, you will likely meet:
Sonam Patel, DPM - Dr. Sonam Patel, born and raised in Southern New Jersey, completed her undergraduate studies in Biochemistry with a minor in Business administration at Northeastern University. After college, she worked at a rehabilitation facility, where she discovered her love for medicine and decided to further pursue it.
She obtained her Doctorate of Podiatric Medicine at Temple University, where she participated in community outreach programs and served on the student government.She then completed her residency at Virtua Hospital in Voorhees, New Jersey serving the county she grew up in as chief resident. As chief resident, she worked in a high pace environment gaining extensive experience in bunion and hammertoe surgeries, trauma, flatfoot and cavus foot reconstruction, rearfoot ankle surgery, total ankle reconstruction, and wound care.
Excited to call San Antonio her new home, Dr. Patel treats a variety of foot and ankle ailments and strives to form the best relationship with her patients in New Braunfels. She strives to provide her patients with the individualized care they deserve, whether it be conservative or surgical treatment. When she is not in the office, Dr. Patel enjoys traveling, exercising, and baking in her free time.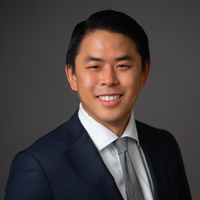 Kenneth Lai, DPM - Dr. Kenneth Lai was born and raised in San Jose, California. He graduated from the University of California, Santa Cruz with a Bachelor of Science degree in Human Biology. While studying for the MCATs, his mother fell victim to heel pain so debilitating that she could no longer chase her grandkids around the house. After accompanying his mother to her appointments and seeing the effect that the field of podiatry had on her life, Dr. Lai decided to pursue a career in the influential field. He earned his Doctor of Podiatric Medicine degree from the Temple University of Podiatric Medicine.
Dr. Lai completed his residency at Reading Hospital, a Level 1 trauma center located in Reading, Pennsylvania, where he served as chief resident. While in residency, he performed a variety of lower extremity procedures including minimally invasive surgery, trauma care, reconstructive surgery, wound care, and sports medicine.
Dr. Lai is excited to begin treating patients in the New Braunfels area. He strives to do what's best for the patient, whether it be conservative or surgical intervention and is proud to be well-versed in minimally-invasive surgery. While Dr. Lai treats all aspects of foot and ankle ailments, he has special interests in fracture care, sports medicine, bunion correction, and reconstructive surgery. In his spare time, Dr. Lai enjoys spending time with his fiancé and their dog, Moose. You can often find them exploring the city's food scene, hiking, or enjoying a nice glass of natural wine.
No matter which provider you choose, you can trust that you will be cared for by an experienced, dedicated podiatrist at San Antonio Podiatry Associates in New Braunfels. Both Dr. Patel and Dr. Lai are accepting new patients, so schedule an appointment today to receive care from some of the best podiatrists in San Antonio, TX. You can visit our office at 212 Hunters Village, Suite 100, New Braunfels, TX 78132, or contact us by phone at (210) 899-1026.
Whether you need podiatry services in New Braunfels or another surrounding area, visit the experts at San Antonio Podiatry Associates. With five other locations, we are certain to be in a San Antonio neighborhood near you. Our podiatrists will help you get back on your feet and pain-free in no time.
Are you looking for a foot and ankle specialist near you? Find toenail fungus treatments or other foot and ankle pain relief fast from the podiatrists at San Antonio Podiatry Associates. With more than 145 years of combined experience, our team is equipped to provide you with an accurate diagnosis and the efficient, personalized treatment you need. Schedule an appointment today, or call 210-405-7672 for more information.